Aldi's Olaplex Hair Shampoo Dupe: Verdict
I Tried Aldi's Olaplex Dupe and Was Surprised With the Outcome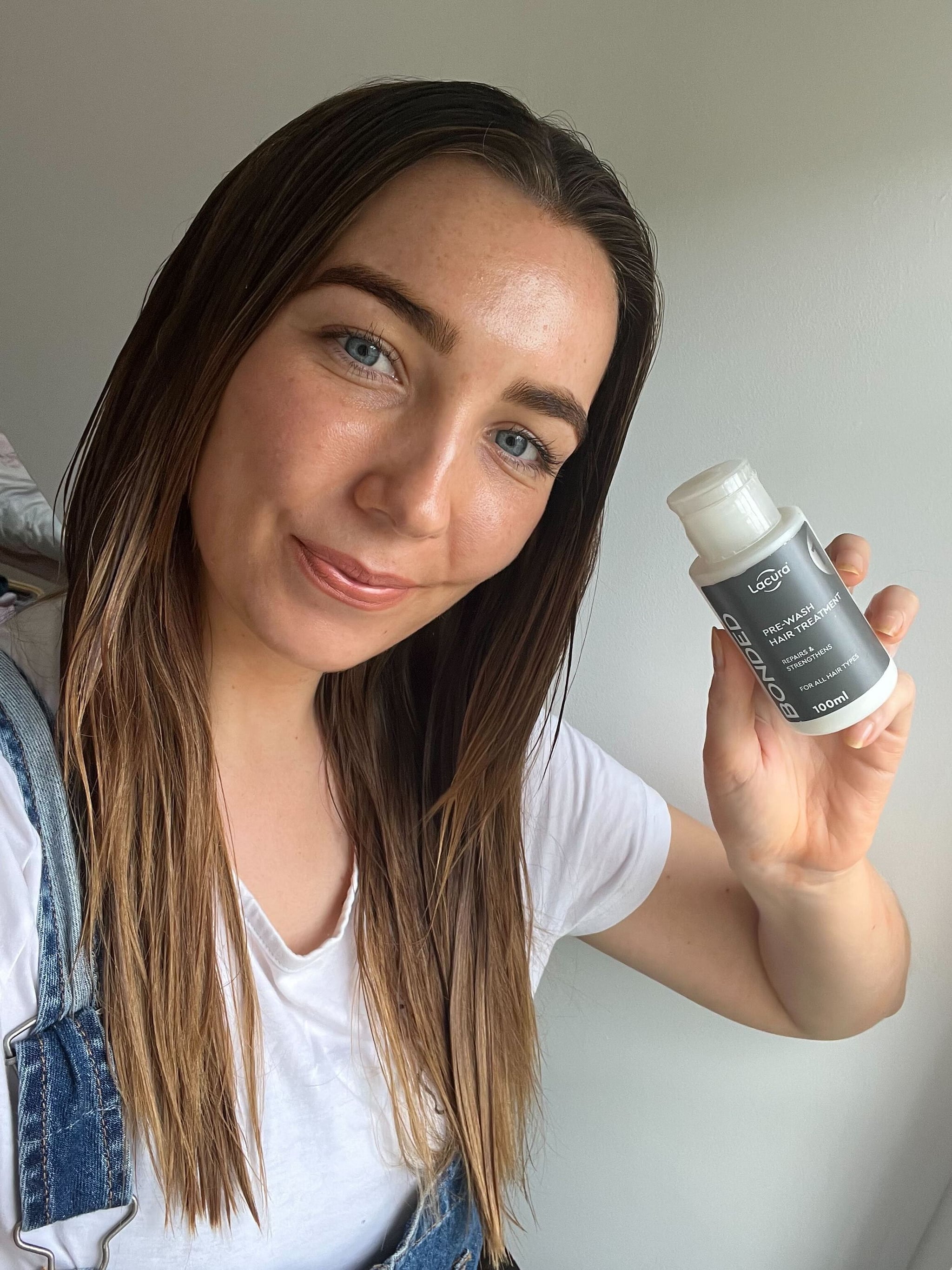 Supermarket Aldi is no longer solely the place to go for affordable groceries and household items, it's fast becoming your one-stop shop for the cheapest beauty dupes on the market. In the face of a cost-of-living crisis, stocking up on our favourite high-end products can't always be a priority, although it's not always easy to find cheaper alternatives that do the same job. This is where Aldi's beauty range Lacura comes in. It produces a variety of low-cost products that are quite obviously similar to more luxurious items, inspired by brands such as Glossier, Glow Recipe, La Prairie, Liz Earle, and Charlotte Tilbury. Most recently, the brand has tackled bonding haircare with a range that is undoubtedly influenced by hair-repair giant Olaplex.
Olaplex's most popular product, the No.3 Hair Perfector (£28), is so coveted that one sells every 3.5 seconds. Lacura's latest offering, the Bonded Pre-Wash Hair Treatment (£3.50), is just a fraction of the price. On top of that, the new Lacura Bonded Shampoo (£3.50) and Bonded Conditioner (£3.50) are being likened by beauty fans to Olaplex's No.4 Bond Maintenance Shampoo (£28) and No.5 Bond Maintenance Conditioner (£28). The packaging is similar, you get the same amount of product, they've even labelled the products numerically, and the formulas promise similar effects . . . but do the results really match up? Well, sort of.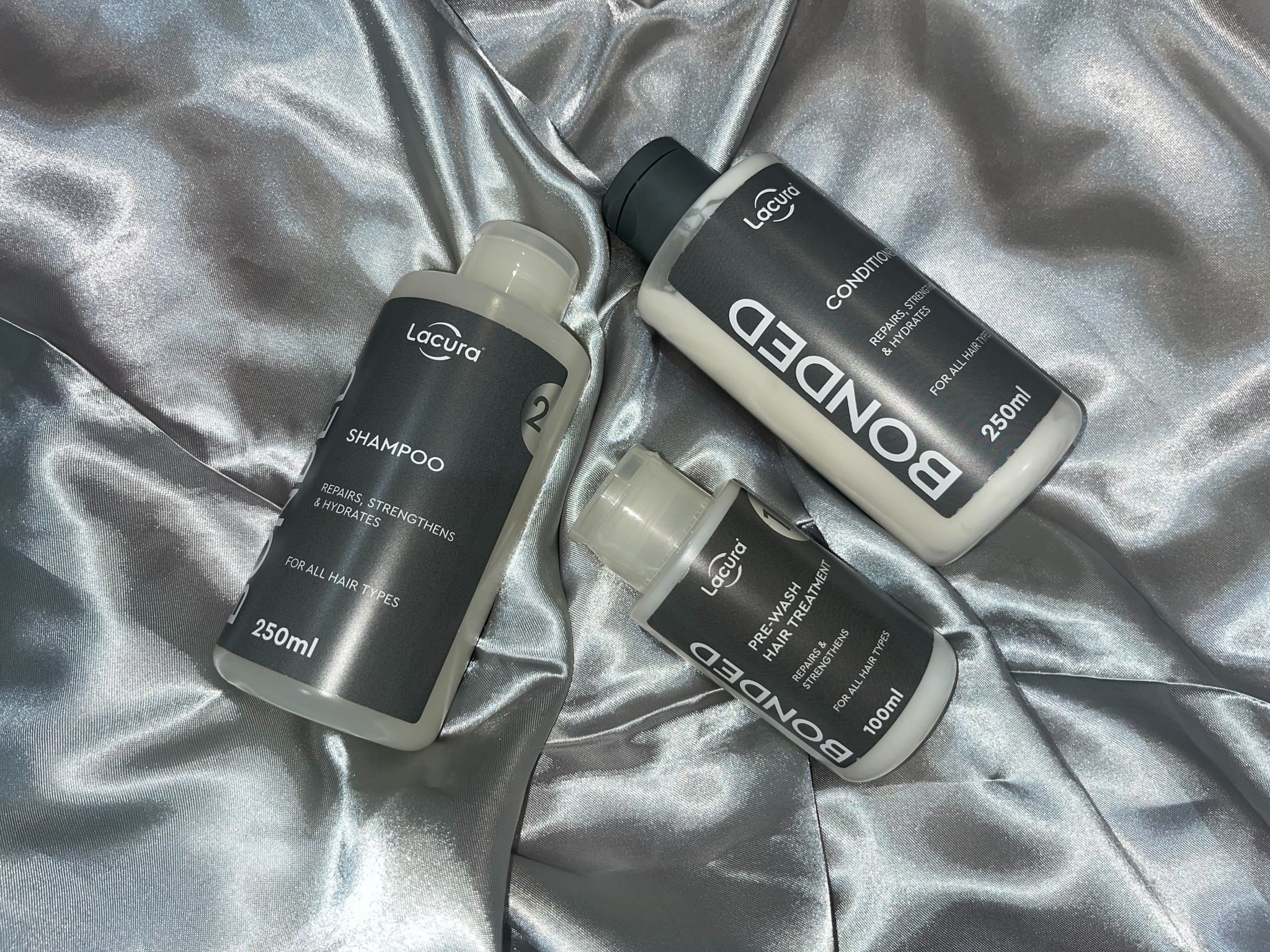 How Similar are Aldi and Olaplex's Ingredients?
Olaplex's results are impossible to mimic entirely because the brand owns a patent on the ingredient bis-aminopropyl diglycol dimaleate. No other brand sells a product containing this, which means Aldi's version will never truly be able to live up to the Olaplex reputation. Put it this way: every strand of hair on your head contains bonds. Things like heat styling, environmental damage, and colouring your hair will break these bonds and leave your hair damaged and lifeless. Bis-aminopropyl diglycol dimaleate — the ingredient in every single Olaplex product — restores these bonds from the inside out. Rather than just smoothing over split ends and plumping hair shafts with moisturising ingredients, Olaplex literally repairs the structure of your hair. Hair-change expert Steven Easton describes Olaplex products as "scaffolding for the hair", and that makes so much sense. The brand's in-salon treatments, No.1 and No.2, repair hair while it is being damaged from colour procedures. Its at-home products repair hair after damage that has occurred outside of the salon.
Other than the patented ingredient, Olaplex is packed with oils and chemicals that soften and hydrate the hair. And this is where it gets interesting: Aldi's offerings contain a few of these same ingredients. For example, both brands use humectant propylene glycol to help hair absorb and retain moisture, behentrimonium to defrizz, methosulfate to prevent static and soften the hair, and jojoba oil to protect against breakage and split ends. It was surprising to see that, just like Olaplex, Aldi's range is formulated without silicones, too. Silicones are typically used by more affordable brands as they make your hair look shiny on the surface without actually penetrating the hair shafts or your root. So, while Aldi's dupes won't necessarily change your hair structure, science says they will give your hair the same silky feeling and leave your strands hydrated.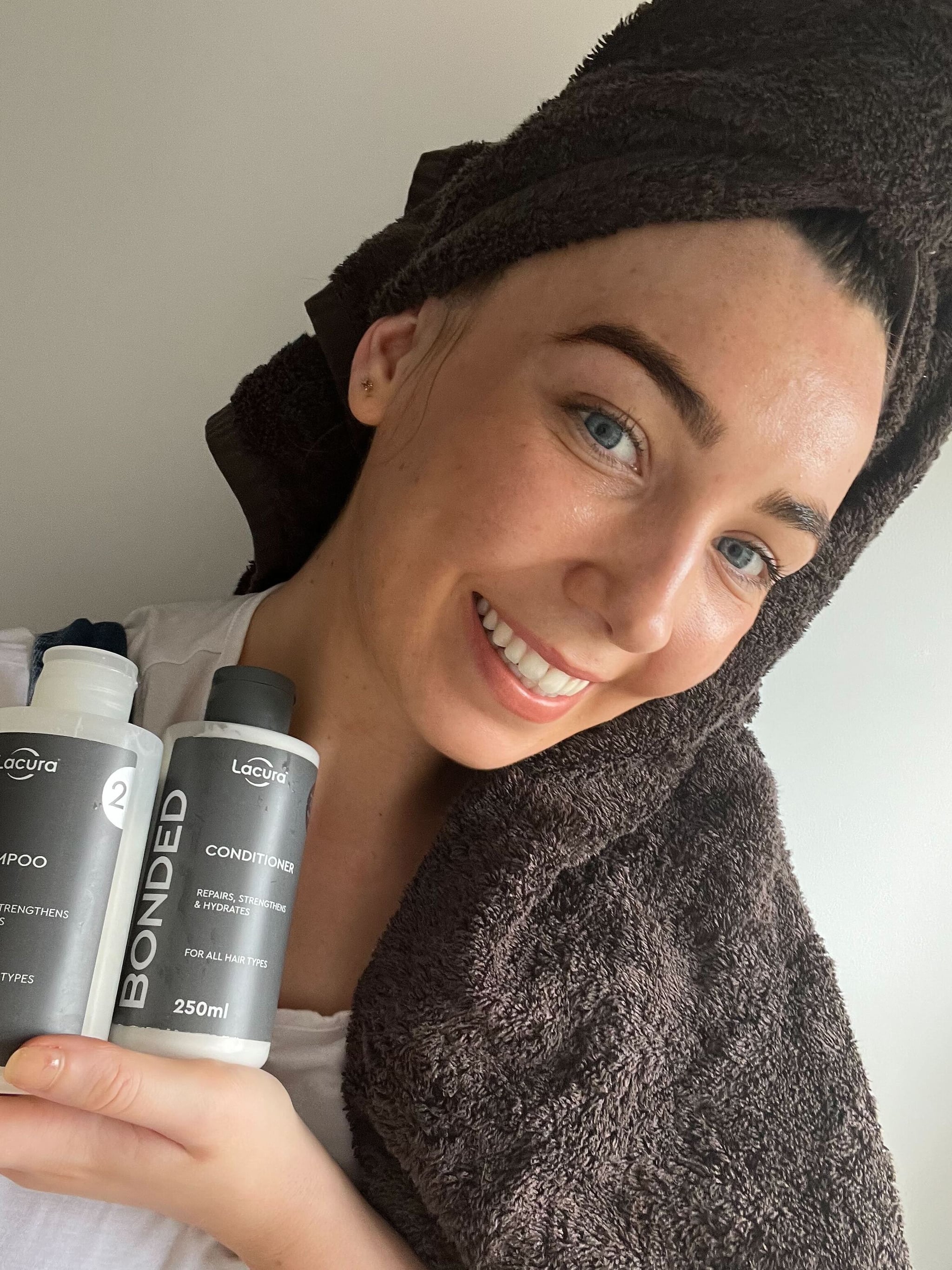 Olaplex vs. Aldi: The Verdict
As an avid Olaplex user, I can honestly say that I didn't really notice a difference between the two brands' products. They have the same texture and are used in the exact same way, and I found them equally as pleasurable to use. In fact, the Lacura versions might even have a slightly nicer smell. More importantly, I couldn't believe how effortlessly my hands glided through my usually knotty hair in the shower. The shampoo feels a little thinner and less gloopy than the Olaplex shampoo, which isn't a negative. The conditioner isn't as heavy, which is a dream for my oily scalp. The results were also just as positive as my experience using the products. My flyaways, split ends, and static hairs are tamed and my hair is just as under control as it would be if I had splurged once more on Olaplex. While I understand that Aldi can never mimic Olaplex's exclusive formula that promises long-lasting hair health, the range is a cheap alternative that has the same instant results.
If you just want a quick fix and your hair is in pretty good condition, Lacura will suffice. However, if, like me, you're someone who regularly bleaches and uses heat on their hair, you'll probably need to spend the extra money on Olaplex. Lacura's products will not rebuild your hair's broken bonds, but they will stick a plaster over the symptoms of damaged hair until your next hair appointment. To truly restore your hair's integrity, you'll need a dose of Olaplex's bis-aminopropyl diglycol dimaleate. Nonetheless, Lacura's dupe is a cheap way to simulate the feeling of freshly Olaplexed hair. Who wouldn't want that?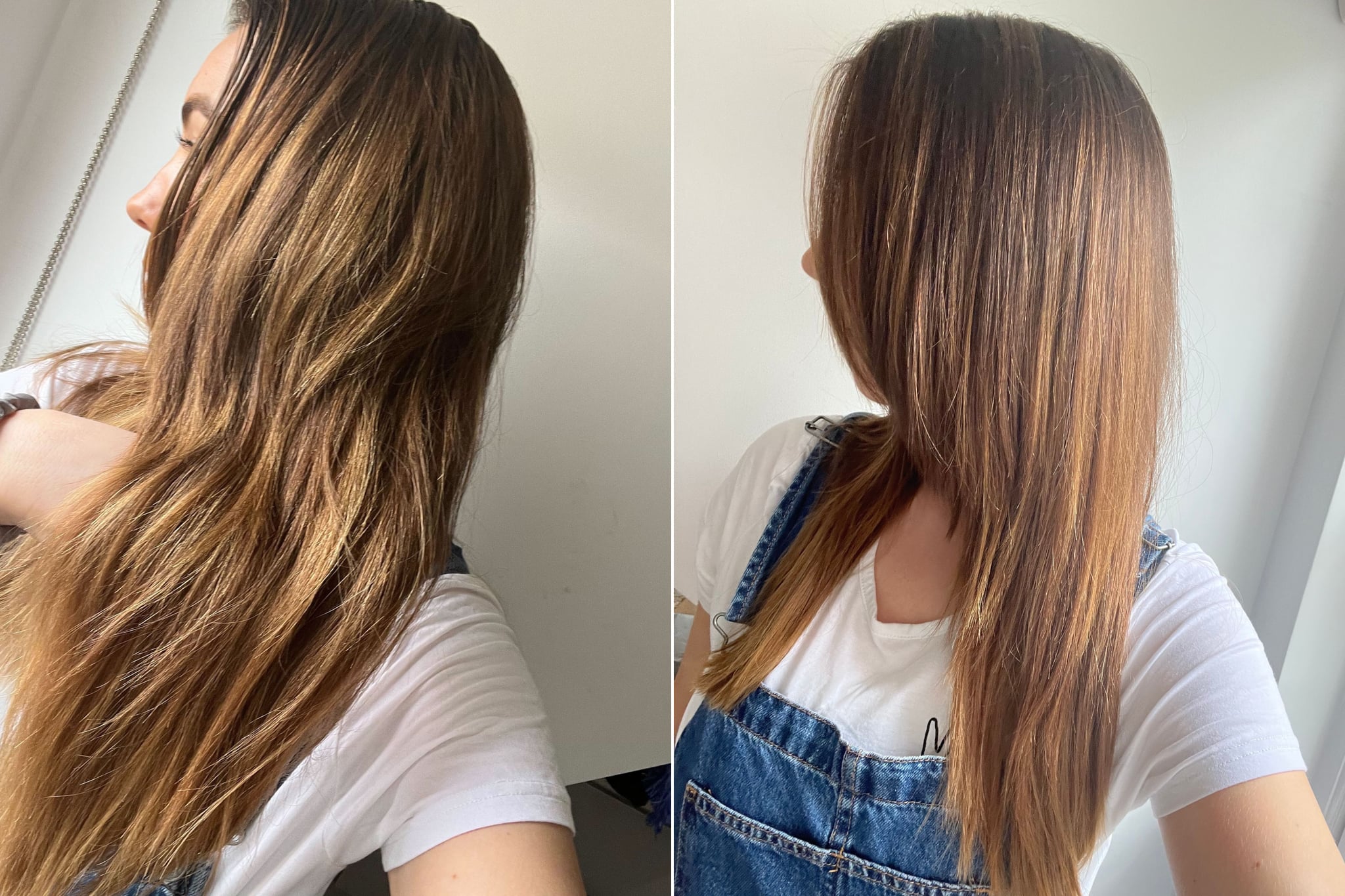 Image Source: POPSUGAR Photography / Izzie Deibe