Did Harry Styles Spit on Chris Pine?
Harry Styles Addresses Those Chris Pine Spitting Rumours at Madison Square Garden's Show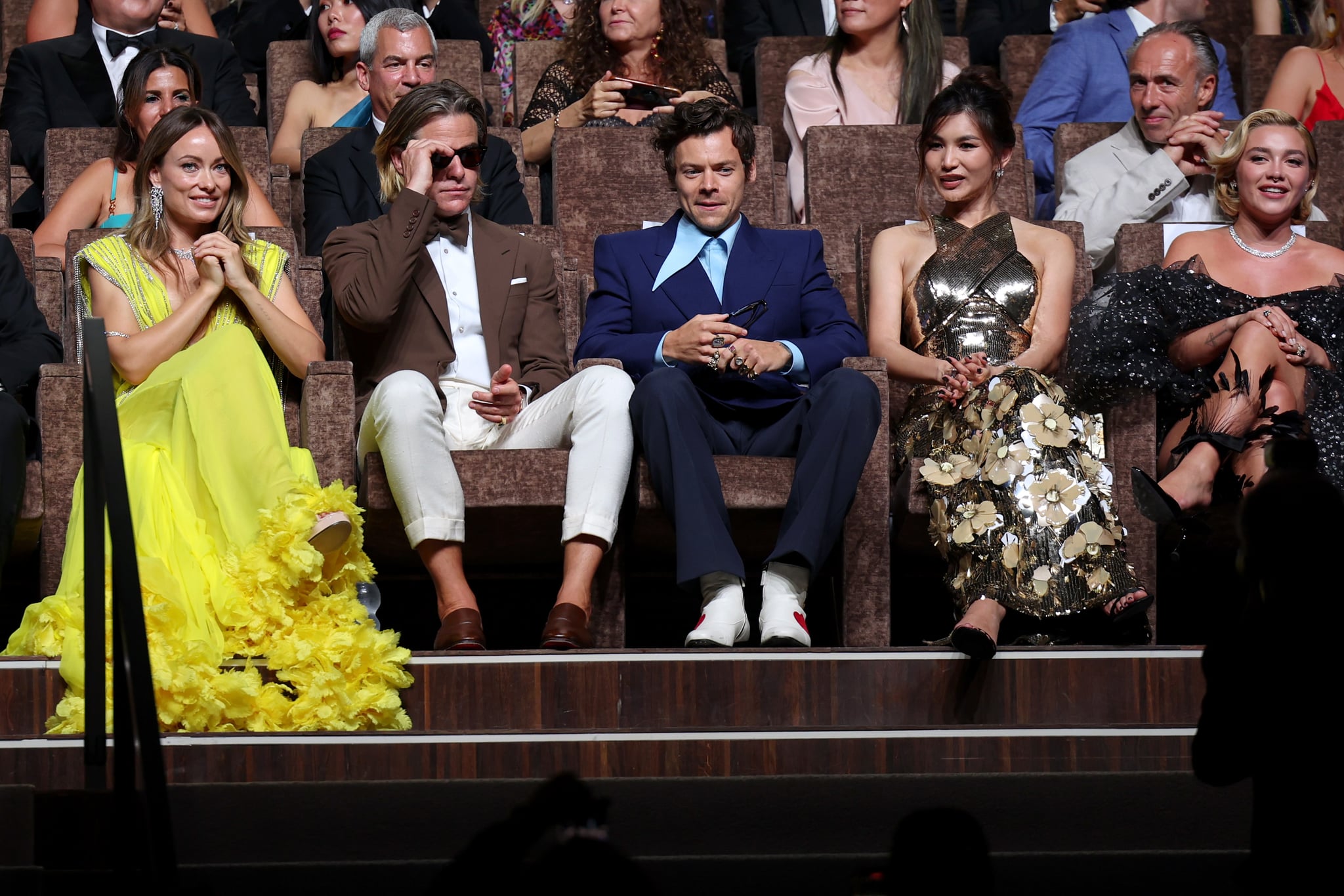 The drama surrounding "Don't Worry Darling" continues to unfold as the film's release date approaches. The cast of Olivia Wilde's forthcoming thriller reunited in Italy this past weekend at the 79th annual Venice Film Festival to promote their film, but things weren't all smooth sailing during the latest stop on the press tour.
On 5 Sept., a video went viral in which some say it looks like Harry Styles allegedly spits on his costar Chris Pine. One Twitter user fuelled the speculation with a slo-mo GIF from the video in a tweet that reads, "He 100% spit on Chris Pine." Others chimed in with their own interpretations of what they think took place — including a tweet that noted Pine might've just been looking for his sunglasses after a round of applause — but what really happened?
As speculation rocketed about what really went down, Styles made light of the rumours as he continued with his "Love on Tour" show. On 7 Sept., the singer returned to New York and addressed the divisive moment directly. "This is our tenth show at Madison Square Garden. It's wonderful, wonderful, wonderful to be back in New York. I just popped very quickly to Venice to spit on Chris Pine," Styles says jokingly. "But fret not, we're back!"
According to a rep for Pine, nothing scandalous occurred. In a statement to People addressing the alleged incident, the rep said, "This is a ridiculous story — a complete fabrication and the result of an odd online illusion that is clearly deceiving and allows for foolish speculation. Just to be clear, Harry Styles did not spit on Chris Pine. There is nothing but respect between these two men and any suggestion otherwise is a blatant attempt to create drama that simply does not exist." Reps for Pine and Styles did not immediately respond to POPSUGAR's requests for comment.
Harry breaking his silence about the spitting incident with Chris Pine! #LoveOnTourNYC (Via esnydaylights) pic.twitter.com/NnQJdVqE8r

— Harry Styles Updates. (@TheHarryNews) September 8, 2022
Wilde's "Don't Worry Darling" has been engrossed in controversy for the past few weeks with rumours about everything from an alleged pay disparity to behind-the-scenes drama over the casting of Styles's character, Jack. The role was originally given to Shia LaBeouf, but Variety reported that Wilde fired him, with Warner Bros. citing a "scheduling conflict." The actor later came forward to deny the claim and claimed to the outlet, via email, that he "quit the film due to lack of rehearsal time."
Beyond casting disputes, Wilde has also been tangled in a rumoured beef with Florence Pugh, her film's leading lady, but has denied such claims. During the Venice Film Festival, Wilde was asked to "clear the air" about Pugh, a question she responded to by saying, "Florence is a force, and we are so grateful that she's able to make it tonight despite being in production on 'Dune.' I know, as a director, how disruptive it is to lose an actor even for a day, so I'm very grateful to her, to Denis Villeneuve for helping us. And we're really thrilled we'll get to celebrate her work tonight. I can't say enough how honoured I am to have her as our lead. She's amazing in the film," as per People.
"Don't Worry Darling" hits cinemas on 23 Sept.