Blind Activist Lucy Edwards Interviews Ryan Gosling
Regé-Jean Page and Ryan Gosling Describe Outfits at "The Gray Man" Premiere For Blind Activist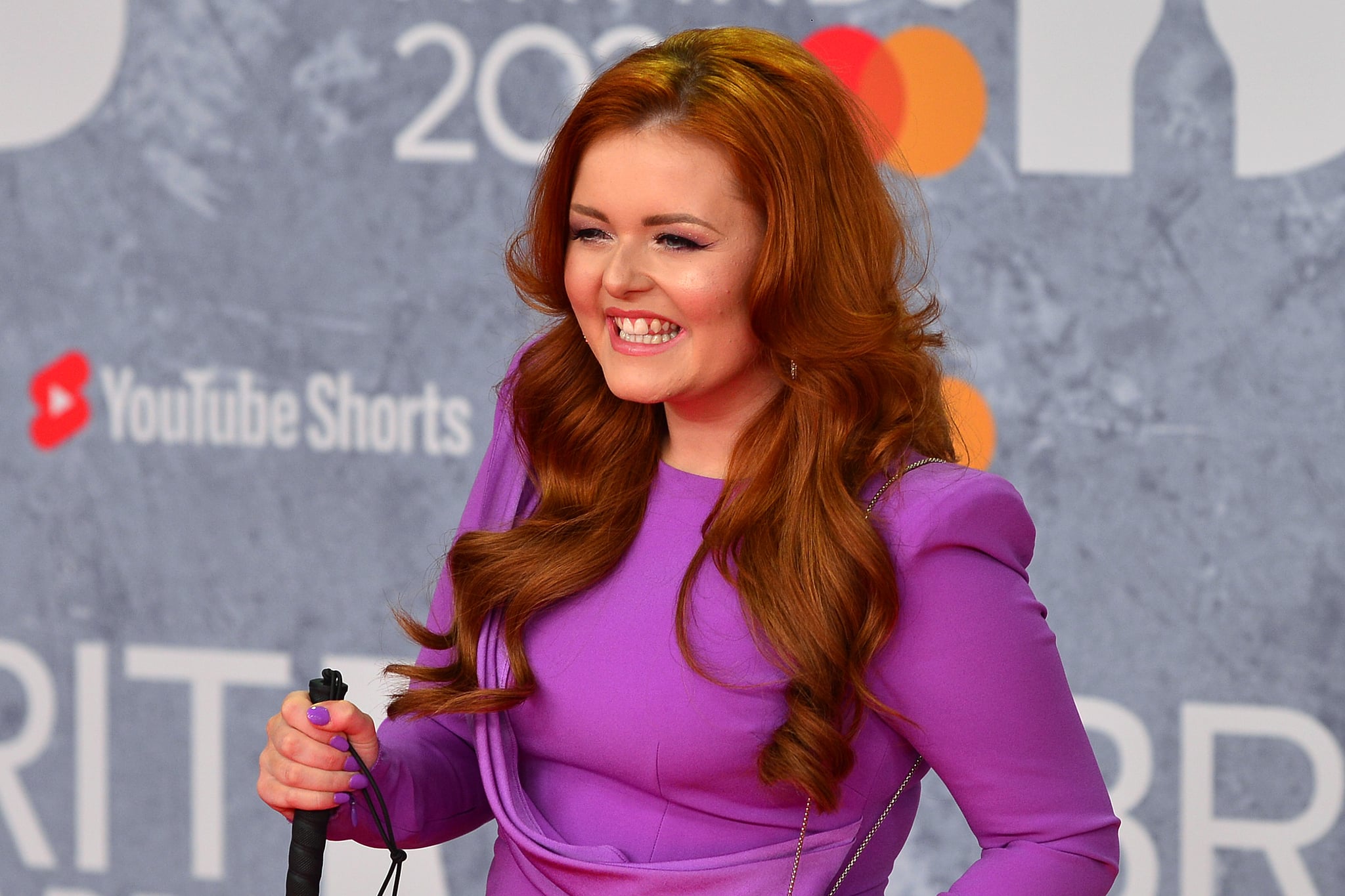 Blind activist Lucy Edwards is known for her bubbly personality and explanatory TikTok videos, and now she has added red carpet broadcaster to her ever-growing list of accolades. Edwards, who has 1.7 million followers on TikTok, is fighting for more inclusivity for blind people, and this weekend she certainly raised even more awareness thanks to her heartwarming interviews with Ryan Gosling and Regé-Jean Page.
The star met the actors on "The Gray Man" red carpet in London last week, where she was hosting the first ever audio-described screening at a Netflix film premiere. Audio description is an additional narration track that plays alongside TV shows and films to allow blind and visually impaired people to follow the story when there are gaps in dialogue. A narrator describes what is happening visually on screen.
Edwards, who went blind at the age of 17 and felt excluded from a lot of film and TV, represented the community on the red carpet, too, asking the actors to audio describe their outfits so blind people can get a feel for what they're wearing. After Ryan Gosling, who stars in the new Netflix film as Court Gentry, commented on the "beautiful green" colour of Edwards's dress, she explained her purpose for being on the carpet. She said: "Well it's actually very apt that you commented on my dress, honey, because today is the first ever audio described showing of 'The Gray Man' and I'm hosting the premiere tonight. So, in honour of that, can you describe to me what you're wearing?" The 41-year-old actor, who is playing Ken in Greta Gerwig's upcoming "Barbie" movie, responded: "Purple, pink. A little Ken on top with Barbie on the bottom."
Edwards, who you might recognise from the Pantene adverts, went on to tell Gosling that she had seen him in "The Notebook", the 2004 film he costarred with Rachel McAdams, before she went blind. "I saw "The Notebook" so I've seen your face Ryan before I went blind, so it's very emotional and really lovely to see you in person," Edwards told him. Clutching his hand to his chest and intensely listening to what Edwards had to say, he said: "No! That's amazing." We're not crying, you are.
Edwards's groundbreaking interviewing style has opened up red carpet fashion to more than two million blind people living with sight loss in the UK, and she's rightfully being given her flowers on social media. One TikTok user said: "yes! this was so amazing! breaking new boundaries! keep up the great work!" Another added: "This is truly amazing, you're the epitome of never give up no matter what life throws at you. What an inspiration!"
Gosling wasn't the only famous face Edwards bumped into on the red carpet. She also had a very moving conversation with "Bridgerton" alumni Regé-Jean Page, who also stars in the Netflix action thriller. She asked him: "Word on the street is you have an amazing outfit on. I would love, as I'm a blind broadcaster, if you can audio describe your fabulous attire tonight."
Page went on to describe his outfit in great detail. "Well I thank you for the audio description, that is fabulous," he said. "It is a grey-ish suit, I get told off for misdescribing colours but it is somewhere in the grey range. We are wearing a silver necklace . . . we've got a semi crescent going on on a thin silver chain leading our way down to a white string vest beneath these smart suit jackets. We are juxtaposing different styles here, hopefully in a stylish way. As we move further down, we have a silver ring on my right pointy finger."
Page might be a British heartthrob already, but now he's really won our heart. Alongside supporting Edwards's cause on the red carpet, he recently stood up against Florence Pugh's body shamers after she wore a see-through Valentino dress. Handsome and using his platform for genuine good? We couldn't love him any more.
Audio description is available for most Netflix original titles and many other TV shows and movies, making it the most accessible option for many blind people. "The Gray Man" is out on Netflix now. Audio description is available in English and Brazillian Portuguese. To watch with audio description, all you need to do is click the speech bubble and select the audio description language you'd like to watch with. Well done, Netflix and Lucy. Here's to more inclusivity in the entertainment industry.