The Royal Family Share Their Christmas Pudding Recipe
Grab a Spoon: The Royal Family Shared the Palace's Official Christmas Pudding Recipe
If you fancy sprucing up your family Christmas pudding recipe this year then you're in luck thanks to the royal family. On 22 Nov., 2020, Queen Elizabeth II's official Instagram page shared Buckingham Palace's official Christmas pudding recipe, and considering it's a favourite for many during the festive season, the baking starts . . . now! According to the chefs in the royal kitchen, this dish is traditionally prepared on "Stir-Up Sunday", aka the Sunday before the Advent season, to be ready by 25 Dec.
A traditional Christmas Pudding is, of course, full of raisins, currants, mixed spices, dried fruit, and of course brandy or rum, in addition to make other ingredients. We know that Christmas Pudding is a fond tradition for the royal family — even for the youngsters. Remember Prince George and the Queen preparing the dish together for the Royal British Legion's Together at Christmas two years ago (feels like a lifetime ago!)? How could we forget his enthusiastic mixing. Try your hand at the recipe below.
The Royal Family's Christmas Pudding
The Royal Family
Notes
If you don't want to use alcohol, you can substitute for orange juice or cold tea.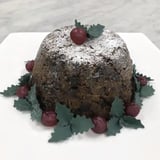 Ingredients
250g raisins
250g currants
185g sultanas
150g mixed peel
250g suet or vegetarian suet
12g mixed spice
2 whole eggs
180g demerara sugar
275ml beer
40ml dark rum
Directions
Combine all dry ingredients.
Stir them up.
Add the eggs and the liquid.
Stir again.
Grease your pudding basins.
Press the cake mix into basins.
Cover with a circle of baking paper.
Cover basins with a muslin or foil, and place puddings into a deep saucepan.
Fill with water up to 3/4 of pudding basin height.
Cover with foil.
Once cooled, wrap puddings well and keep in a cool, dry and dark place until Christmas.
On Christmas Day, reheat your pudding in a bain-marie for 3-4 hours.
Remove from the basin using a rounded knife or palette knife, flip out onto a plate, garnish or flambé and serve with brandy sauce and cream.
Information
Category

Puddings/Mousse

Yield

2 puddings